AC Transit has proposed to cut 30% of its service for the next year. The East Bay Transit Riders Union has created an interactive map of these service cuts for wider public knowledge.
Click here for a written summary from the staff report with a list of every line and their respective cuts.

Map: Click on a line or number like the image below for explanations of changes given by AC Transit, with citations to their staff report in the map.



You can turn off transbay lines for visual clarity.



Each line is classified by whether the line would be:
ELIMINATED: Bus line is fully erased with no replacement service.
REDUCED: Less buses would serve the line and/or parts of the bus route are eliminated.
MODIFIED: Bus line will be given a new number and combined with another line. Current amount of buses on the line would remain the same.
NO CHANGE: The bus line remains the same as it is in 2020.
INCREASE: Buses increased on a line to stop overcrowding.
You can turn off/turn on bus lines by type by clicking on the colored boxes.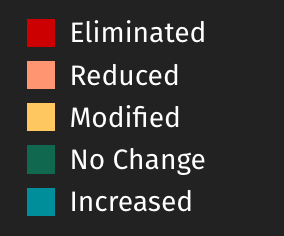 CLICK HERE FOR FULL SIZED "AC TRANSIT SERVICE CUTS" MAP.
This map is the "30% cut scenario", the largest cuts AC Transit has proposed. The "15% cut scenario" will be mapped soon.
EBTRU will fight ALL cuts to public transit. Join here!